- Monday 29th of December -
My Antarctic gallerypage is now finally finished and the pictures are online. You will find the page from a link on the startpage. The pictures are sorted by location and I hope you will find it easy to navigate on the map.
Right now only a few of the galleries contains pictures, but I hope to add some new every day so hopefully you will find pictures in every gallery quite soon.
The galleries with pictures right now:
Ushuaia & Tierra del Fuego NP - Tierra del Fuego NP
Falkland Islands - West Point Island
South Georgia - St. Andrews Bay
South Orkney Islands - Shingle Cove
Antarctica - Danco Island
Click here to go to the start page of the Antarctic gallery.
- Wednesday 10th of December -

Unfortunately I haven't updated the site since July. It's because some problems with my old computor. But now, finally, I have set it all up on my new laptop and hope to add new pictures quite often. Got a lot of birdpictures and other naturepictures from this summer and fall to add but I will wait with them a bit longer since I made a big trip abroad a couple of weeks ago.

For almost whole of November I was on an expedition to Antarctica, South Georgia and the Falklands. From that fantastic trip I have thousands of pictures to go through. I hope to start adding some of them here as soon as I have created the gallery which will be on a seperate page. Until then, here are some samples of what to come, enjoy!

Adelie Pengiun

Southern Elefant Seal

King Pengiun with chic

Iceberg

Black-browed Albatross

Antarctic Fur Seal

King Penguins and colony
- Sunday 27th of July -
It has been quite a while since I updated the news here. But I have added a lot of pictures during this time.
As you can see among the latest updates I had one great morning two months ago which resulted in good pictures of Redshank och Shelduck. Once again you get reminded that it pays of to lay in the mud under a camouflagenet at dawn about 3.30 in the morning.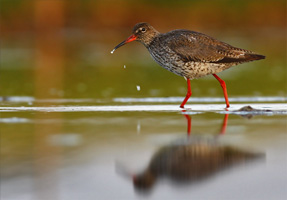 Redshank
I have also completed the "Owls, Doves and Woodpeckers" and "Larks, Pipits, Swallows and Wagtails"-galleries with a few new pictures.
The past months I have photograped more and more other nature motives. Since I bought my macrolens there has been a lot of close-ups and insects lately, but also a few mammals and landscapes. So if you look at my "Other galleries" you will find a lot of new pictures and I hope to add some more the coming days.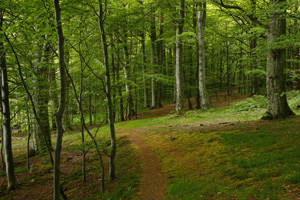 Beech Wood
Hope to get some new birdpictures as well soon, it has been a while since the last time. I am also waiting for a big journey that I an making in November, 3 weeks in Antarctica, South Georgia and the Falklands.
- Sunday 18th of May -
Now as spring really has arrived there are things to photograph everywhere. I am out as often as I can and I will try to publish all new pictures as fast as possible.
Among the latest updates you will find some pictures on mostly passerines. On spieces that I got really good pictures on was Grashopper Warbler, a bird who usually stays low in the vegetation and is hard to see. See this link for all new pictures.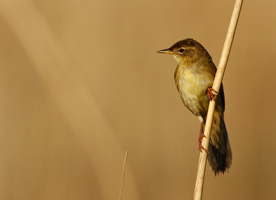 Grashopper Warbler
I have also started to translate the site into swedish so from now on you will be able to read the news in two languages and more and more of the site will be found in swedish as well.
- Sunday 27th of April -

Finally some updates on the site. Since we have had very good wheather the past weeks there's been a lot of new pictures but not so much time by the computor, but now finally i've made them all ready to publish.

I got really good pictures on Robin and Winter Wren, but also spieces like Litte Grebe, Moorhen, Treecreeper and Wood Pigeon. You will find most of the new pictures on "Latest Updates" but also look in the galleries for Wood pigeon and Treecreeper.

Winter Wren

European Robin

I have also completed the "Auks" gallery with many new pictures on puffin. Hope you will enjoy all the new pictures.

Puffins
- Thursday 28th of February -

This weekend I spent a day in a hide with Golden Eagles and Ravens. It was a quite succesfull day, even though the wheather was not so good. See "Birds of Prey" gallery and "Tits, Shrikes and Crowes" gallery for the new pictures.

Golden Eagles
- Saturday 16th of February -
Today I have updated the site with three pictures from last week. After a long day of photographing and birdwatching, only three good pictures was a disappointment.I guess I'll have to wait about a month for spring to arrive. Then hopefully it will be more things to photograph.
I have also finished the "Gulls, Terns and Skuas" gallery, and started with Guillemot for the "Auks" gallery.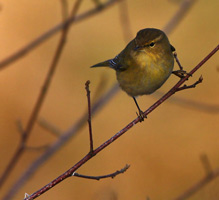 Chiffchaff
- Monday 28th of January -

This sunday we had beautiful winter weather so I was out photographing all day. But at this time of the year the motives are few. I started the day by photographing waterfowl in Göteborg city, then some gulls in the harbour and in the end of the day I tryed on Yellowhammers on one of my favorite places, Tjolöholm. Did'nt really get the pictures I wanted but at least a few Tufted Ducks and a Carrion Crow. You'll find them in the "Waterfowl"- and "Tits, Shrikes and Crowes" gallery.

Tufted Duck

Carrion Crow
- Sunday 6th of January -

Finally we got some real winter here with up to 10 cm of snow. As usual I went to my feeder, but to my disappointment it was'nt very much birds there. Only the usual Coal Tits, which you can find four new pictures of in the "Tits, Shrikes and Crowes" gallery.

During this weekend I have also finished the "Shorebirds" gallery and started on the "Gulls, Terns and Skuas" gallery. The first one to be finished was Great Skua, with 15 new pictures.

Coal Tit

Great Skua
- Tuesday 1th of January -
During a few hours on New-years eve I went up to my feeder in the forest. After two weeks of cloudy and rainy weather it was now finally some sunshine and cold. It was a few Coal Tits, some Blue and Great Tits and one Willow Tit there feeding constantly.
Got some pictures on the Willow Tit, which I did'nt have before and also a few others. You will find the new pictures in the "Tits, Shrikes and Crowes" gallery.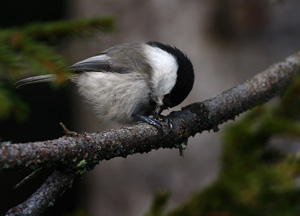 - Tuesday 25th of December -
During the past few days I've been updating the galleries with both new and old pictures. Only recently taken pictures will appear on the first page, to view the other pictures please look in the gallery.
I hope I will get some day now during the holiday with better weather so I can take some new pictures, it's been too long since the last time now.
- Sunday 16th of December -
It has been over 6 months since I last updated the site. The reason is that I have been working on a new personal site to replace the old one. First my intention was that the new site should be completly finished before I published it, but that would have taken too much time so I decided to publish it now. Two parts of the site, the gallery and the portfolio, are still under construction but the rest of the parts are finished. Since the site is new you may find some small errors and misspells here and there. If you find any of these I would be glad if you told me about them.
I'll be writing more about the new site soon and you will also find out about any new updates here under News. Until then I hope you will like the new site.
If you want to see the old gallery, please use this link.
- Saturday 20th of October -

We've had some days now with beautiful autumn weather. Got some hours before work every morning so on friday I decided to visit my friend's feeder to try and photograph Tits and Nuthatches. And I had a quite succesful morning and the birds were very cooperative, as they use to be there. At this time the leafes are in the most beautiful autumn colours which makes very nice backgrounds to the pictures. Have added four new images to the "Tits, shrikes and crows" gallery, enjoy!

Marsh Tit

Blue Tit
- Saturday 22th of September -

Went south this morning to photograph seabirds by the coast. Glommen near Falkenberg is a good spot where you can come quite close to the birds. But after some hours without one picture worth publishing we were preparing to leave, but then we got information that a Shearwater was on its way down the coast so we decided to wait. A decision that turned out to be a good one. To see and photograph a shearwater on apox. 100 meters is not very common.

After that we drove a few kilometers to a small pond with Red-necked Phalarope. A very cooperative and unafraid bird. Just swimming around there near the parking lot ignoring us completely, why can every bird be like that?

Manx Shearwater

Red-necked Phalarope